Sie sind hier: Europa > Todesanzeigen > Nachricht aus Griechenlan…
Todesanzeigen
Nachricht aus Griechenland: Todesanzeige
25.01.2021
We are sorry to announce the death of our friend Dr. Ioanna Sahinidou, who was one of the first women in Greece who have found the local branch of the EFECW. Her deep faith to God, her ecumenical life, her wonderful spirit, her theological knowledge will always be a part of all the members of the Forum in Greece and of all her ecumenical friends in Greece and abroad. She was a member of the Evangelical Church of Greece, an excellent theologian, a woman of faith and also practice. We will remember her with respect and love and we wish her to have her place in Paradise and her Resurrection by the side of our Christ!
Farewell Mrs. Ioanna!
"Damaris the Athenian", Greek National EFECW
Dr. Dr. Vasiliki Mavroska
Assistant Professor (Dogmatics)
Ecclesiastical Academy of Athens
Athens, Greece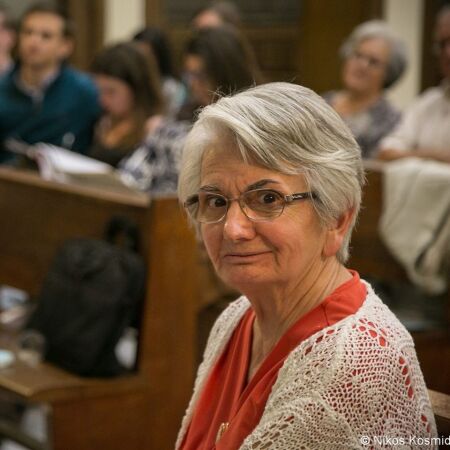 Johanna Friedlein, die sie gut kannte schrieb:
(Pastorin in Osterode/Harz)
Meine stärkste Erinnerung an Ioanna rührt von CC- Treffen im März 2008 in Athen her. Da waren wir mehrere Tage zu Gast in der griechisch- evangelischen Gemeinde. Ihr gehörte auch Ioanna an. Die Tische bogen sich vor Köstlichkeiten. Wir tanzten einen ganzen Abend zu griechischer Musik. Und sie erzählte begeistert von ihrem relativ späten Theologiestudium und ihrer Promotion. Sie hat öko-feministisch, also nicht- dualistisch, von Gott und somit von der Schöpfung gesprochen. Ihre Bücher auch heute noch lesenswert. Wegweisend! Außerdem fühlten wir uns durch denselben Vornamen Jo(h)anna miteinander verbunden. Er bedeutet: Gott ist gnädig. Gottes Gnade umhüllt sie auch jetzt. In alle Ewigkeit.
Aus mehreren  Ländern kamen Kondolenzschreiben:
Dear Friends in Greece and all Europe
In the name of the Swiss Forum I send you our deep condolence. You lost a wonderful woman and great pioneer.  We all will foster the spirit of these pioneer women who got us all going on the path of women's ecumenism.
May God bless you all.
Yours Eva-Maria
Dear sisters in Greece and all over in Forum groups,
Keeping the memory of her fruitful life in our prayers, whishing you the Lord's comfort we remind you of the most powerful message of the Bible:  Now we do not want you to be uninformed, brothers and sisters, about those who are asleep, so that you may not grieve like the rest who have no hope. 1.Thess.4,13.
On behalf of EFECW  board in Hungary,
Rev. Márta B.Pintér,president
So sorry to hear from the passing away from Dr. Sahinidou, gratitude for her life and her contribuition to the Forum.
Greetje van der Veer and the italian group

Our condolences with the death of Dr. Sahinidou.
Liesbeth Wanhill and the Dutch group
Pilar het volgende geschreven:
All my affection, recognition and prayer for the life of Ioanna and her contribution to The Forum and the world. ¡Thank God for her and for all those who open the way for us!!
Pilar Yuste

El jueves, 21 de enero de 2021, Ana Slacanac  escribió:
Sincere condolences from the Croatian forum! May the fruits of her life prevail for the benefit of many.
NC Ana Slacanac

We share the grief After suck a remarkabel Woman of the Greek Forum.
All the best and sympathy from
Carin, Cecilia Evelina in the Swedish Forum 
My deepest sympathy and prayers on the death of Ioanna May she Rest in Peace and enjoy her eternal reward Sister Brigid Collins,UK
---