Sie sind hier: Europa > newsletter der europäisch…
Newsletter Europa-Ebene
newsletter autumn 2023 (*.pdf-Datei, 2 MB)
newsletter spring 2023 (*.pdf-Datei, 3 MB)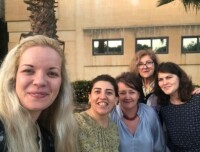 newsletter Dez. 2022 (*.pdf-Datei, 3 MB)
---
Im September 2022 sandte uns das Coordinating Committee aus aktuellem Anlaß dieses  Statement:
Calling for peace and an immediate end to the hostilities at the Armenian borders
The Ecumenical Forum of European Christian Women is a movement that seeks peace, emboldened
and driven by our belief in the life and example of Jesus Christ. Our mission is to reach out across
cultural, geographical, and national divides and, in solidarity with one another, seek the peace and
justice that is demanded by our faith.
We, therefore, condemn the attack of Azerbaijan on the sovereign territory of the Republic of
Armenia, and call for an immediate ceasefire. We pray for all people affected by this conflict and
especially think of our Armenian sisters.
We, therefore, stand with our Armenian sisters and make the following commitments:
1. To call for an immediate end to current hostilities.
2. To demand respect of human rights and specifically the immediate end of the violation of
people's right to life and disruption of security of the Armenian people.
3. To uphold in prayer the people of Armenia, our Armenian sisters.
4. To ensure that our church traditions throughout Europe speak out against this conflict and hold
the victims of the conflict in their prayers.
5. To demand from our governments resolute action to re-establish peace.
---
newsletter GA, 2022 (*.pdf-Datei, 955 KB)
newsletter April 22 (*.pdf-Datei, 1 MB)
newsletter.december 2021 (*.pdf-Datei, 1 MB)
newsletter März 2021 (*.pdf-Datei, 3 MB)
2021 newsletter february (*.pdf-Datei, 2 MB)
xmas greetings (*.pdf-Datei, 984 KB)
Bitte beachten: Misprint: on page 6 the captions of the 2 photos have been swapped!
newsletter November 2020 (*.pdf-Datei, 1 MB)
newsletter.sept.2020 (*.pdf-Datei, 2 MB)
nesletter 2/2020 (*.pdf-Datei, 1 MB)
newsletter april20 (*.pdf-Datei, 2 MB)
newsletter.dec.19 (*.pdf-Datei, 2 MB)